About Our Services
Queen Anne Bed and Breakfast features spacious rooms in a quiet location with breakfast included in the price. Our hosts are concerned with your comfort during your night or week here at Queen Anne Bed and Breakfast. Our goal is to make you feel peaceful and stress-free, making Queen Anne Bed and Breakfast a home away from home. We are a member of the Iowa Bed and Breakfast Association. Our staff can speak English, Italian, and German for your convenience.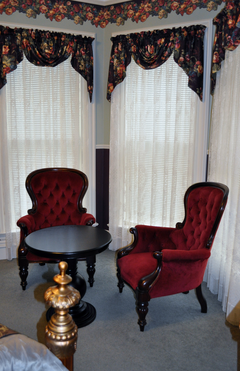 We offer:
Breakfast
Onsite wedding officiant
4 Spacious rooms with prices starting from $89-$149 per night
Wedding services
We'll Celebrate Your Special Day with You
If you're looking for a beautiful, quiet facility for a wedding, Queen Anne Bed and Breakfast may be the perfect choice for you. With an on-site wedding officiant and a view of a lovely, historic house, Queen Anne Bed and Breakfast is the perfect place for a small, personal wedding.

Our staff includes Larry Howard, a retired ship builder and farmer who enjoys meeting people. Barbara Howard is a licensed massage therapist and wedding officiant who will make your stay as comfortable as possible!

Call us about weddings!
Barbara Howard, licensed wedding officiant, is on site to help you plan a small wedding in our beautiful facilities. If you're looking to plan a special, intimate wedding at our bed and breakfast, give us a call today.